Accommodation
Rooms have been reserved at hotels around Conference venue (Kobe International Conference Center) by Kinki Nippon Tourist Co., Ltd (KNT).
*Availability (Reservation Period) : 2 April (Sunday) to 7 April (Friday) 2023. 6 nights
*Room Type : Twin (Two bedded room with bathroom) Double (One bedded room with bathroom)
Please note that the hotel reservations will be made on first come-first-served basis.
JPY: Japanese Yen
Above rates are per room/per night including 10% service charge and 10% consumption tax.
Breakfast included per night
Incidental charge (drink or food fee, laundry fee, Telephone fee etc.), Voluntary Travel Insurance are not included.
Minimum number of participation --- 1 person
Free for Pre-school child if they sleep together with adult
In case they use beds, same fee as adult
same as adult for elementary school student or above
Tour Conductor --- Not available
Date of quotation is based on the rate as of 12 December 2022
Payment
Payment of hotel accommodations fee should be made in Japanese yen by credit card.
VISA, Master Card, JCB, American Express are available

No reservation will be confirmed in the absence of this payment.
Change & Cancellation Policy
In case of change and/or cancellation, a written notification should be sent to KNT by e-mail.
The date and time of the change and cancellation will be based on the working hours. [Monday through Friday 10:00 a.m. to 05:00 p.m. except Japanese national holidays.(Japan time GMT+9:00)]
After working hours, cancelation will be made next day which may incur charges.
Terms & Conditions
Please read "Tour Term and Condition(Domestic Trip)" before making a hotel reservation.
*You shall be deemed to have agreed to comply with the terms & conditions when you have made a reservation for the accommodation.
*KNT and the affiliated hotel shall use personal information within the scope necessary for arranging and providing the applied services.
Privacy policy

Approval Number:6044-22-12-0004
Please make reservation through the following.
If you have any inquiries, please contact to:
Kinki Nippon Tourist CO., LTD. (KNT)
Travel Service Center West Japan
E-mai:icmf-kobe2023htl-0216@or.knt.co.jp
We are able to respond better in a written communication than by speaking.It would be greatly appreciated if you could contact us by email.
phone:+81(0)6-6535-8621

-Office Hours-
Monday-Friday 10:00am-5:00pm (Japan time = GMT+9:00)
Closed on Saturdays, Sundays and national Holidays
*The date and time of the change or cancellation will be based on our working hours.
Certified Travel Service Manager:Hideo Morimoto (Mr.)
A Certified Travel Service Manager is responsible for supervising transactions at the sales office where your travel arrangements are made.If you have any questions about your travel contract,please feel free to contact the manager specified above.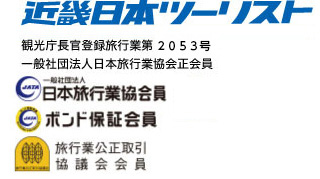 Kinki Nippon Tourist Co., Ltd.
Corporate Travel, MICE Branch Kansai
Kintetsu Shin-Namba Building 7F, 1-4-38,Minatomachi, Minato-ku, Osaka, 556-0017 Japan
Government Registration Number: Japan Tourism Agency No.2053
Member of the Compensation Security Bonds System
Member of Travel Agency Fair Trade Council